Helidon Xhixha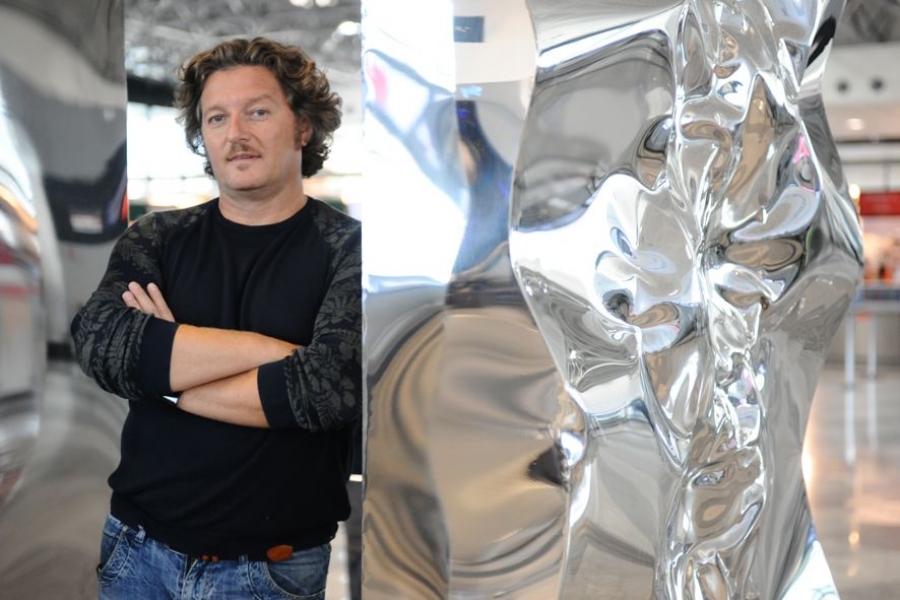 Helidon Xhixha nasce a Durazzo, in Albania, nel dicembre 1970. Figlio d'arte, trascorre la sua infanzia nello studio del padre Sali dal quale eredita una forte passione per le "fine arts" ma soprattutto per la scultura. Inizia a frequentare l'Accademia delle Belle Arti di Tirana ma poi decide di trasferirsi in Italia. Nel 1998, grazie ad una borsa di studio, ha la possibilità di frequentare la Kingston University di Londra dove affina così le tecniche d'incisione, scultura e fotografia. Nel febbraio 1999, si laurea all'Accademia delle Belle Arti di Brera, Milano.
Dall'inizio del 2000 ha allestito numerose personali in gallerie e istituzioni pubbliche di tutto il mondo, fra cui si ricordano: "Il cavallino rampante", Ferrari Headquarters, Florida (2003); "Horses", Dubai (2003); "Luce", Nuova Galleria d'Arte, Borgomanero (2004); "Installazioni urbane", Novara (2006); "Renaissance of Towers", Venezia (2007); "TU VUOI essere attore... o comparsa", Milano (2008); "Renaissance of Towers", STARK la stazione di trasformazione di Humboldt, Berlino (2008); sempre nel 2008 monumentali installazioni Novara, Firenze e Alessandria; "Leggero come l'acciaio", Galleria, Como (2009). "Acciaio e Kauri", Museo del Legno, Cantù, 2010; Renaisssance of Towers-Il peso del Palio, Legnano (2010); "Elliptical light", Hotel Melia, Dubai; "Lampi di Luce in Città", Marco Monti Art Gallery e Municipio, Monza (2011); "Plasmare la forma attraverso la luce", Progetto Artevita, Matera (2011); "The Solo Project", De Primi Fine Art Gallery, Basilea, Germania (2011); "Riflessi di Storia", Palazzo Presidenziale, Tirania (2012); "Riflessi dal Cielo", Palazzo della Regione Lombardia (2012); "Les Arts dans l'habitation", Continental Art gallery, Saint-Jean-Cap-Ferrat, France (2013); "Contemporary Art at it's Best", Marbella, Spagna (2013); "Art and Design", ESPACE Pierre Cardin, Parigi (2013); "The Moulding Power of Light", La Galerie Nationale, Dubai (2013); "Light in Miami", Nina Torres Fine Art, Miami, Florida (2013); "20 Anni di Electronic Art Café", E.A.C: Performace, Bologna (2013); "Mostra di Sculture", Lugano, Svizzera (2014); "Sculpting Light", Galerie Lausberg, Düsseldorf, Germania (2014); "Oceano", Muse Sales Gallery, Miami, Florida (2014); "Evarlasting/Eterno", Aeroporto di Malpensa, Milano (2015-16); "Monolite d'acciaio", Rosembaum Contemporary, Bal Harbour, Florida (2015); è in mostra alla "56esima Biennale di Venezia", presso il Syriam Pavilion (2015); "Refractive Vibes", Contini Art UK, Londra (2016); c/o Rosenbaum contemporary art gallery, Boca Raton, Florida, 2016; a London Design Biennale (2016).
Ha esposto anche in diverse mostre collettive fra cui: Consolato USA a Milano e alla Kingston University a Londra (1999). "Open Factories", "Mulino Vecchio di Bellinzago" e "Nudo d'estate", Italia (2000); Black Health Gallery, Londra (2000). "Sculptue Contest", Open Air Museum, Tokio (2001). Sempre nel 2001 partecipa alle collettive c/o Accademia di Brera e Agora Gallery di New York. "Luci e Ombre", Galleria Magenta, Magenta (2002); "Il lago in mostra", Villa Giulia, Verbania (2008); "Artourr-o" the Must, Yiwu, Cina e in Piazza S.Maria Novella, Firenze (2008); "Luxury on the lake", Galleria la Perla, Cernobbio, Como (2009); "Steel Walls", Fuori salone del mobile, Milano (2009); "Steel Walls", BAU 2009 International fair for Architecture, Monaco-Germania; "The Present and the Future", Ginevra-Svizzera (2010); "Chiedimi il rosso", Overlook Centro D'arte, Pistoia (2010); "Riflessi in laguna", le Briccole di Venezia, Venezia e Milano; "Strappi, Graffi e Bagliori", Galleria Mondo Arte, Milano (2011); "Tra le Briccole di Venezia", Salone Internazionale del mobile e MAKK, Colonia-Germania (2012); "All about these... Ladies and Gentlemen", Video screning, Co-Pilot project, Istambul, Turchia (2013); "First Friday Art Walk", Nina Torres Fine Art Gallery, Miami-Florida (2013); "Mese della Cultura e della Lingua Italiana", Yacht Club of Monaco, Principato di Monaco (2014); "Vela-The Trophy", Giraglia Rolex Cup 2014, Principato di Monaco Monaco; "Breaking Through-Miami", Charity Auction, Bal Harbour, Florida (2015); "Acquaè Venice", Padiglione Venezia a Expo 2015, Milano; "Stemperando", Biennale Internazionale di Torino (2015); "Art in the Park", Muse Sunny Isles, Florida (2015).
Riceve anche diversi riconoscimenti, tra i quali: Primo premio nella II edizione del "Gemine Muse Young Artists in Musei Italiani" (2003); il "Lifetime Archievement Award" nella IX ed. del premio nazionale per l'arte nella città di Novara (2009). Nel 2010 è invitato dal Comune di Legnano a realizzare il premio simbolico, in argento, "Peso del Palio 2010" assegnato alla vincente Contrada della gara. Nel 2016 riceve il "Premio Napoli Cultural Classic", Premio Eccellenze, 
Le sue sculture sono incluse in molte collezioni pubbliche e private in Italia, principato di Monaco, Francia, Albania, USA, Svizzera, Quatar, Dubai
Giunge in Versilia nel 2008 partecipando alla collettiva "1st Edition Arte Forte", Forte dei M;armi; nel 2012 allestisce la personale "Sculpting Declinations"c/o l'associazione "FienilArte", Pietrasanta e nel 2016 la grande mostra "Shining Rock", CCLR, Piazza Duomo, Piazza Matteotti, Pontile di Marina di Pietrasanta e Capezzano Monte a Pietrasanta; Piazza Garibaldi a Forte dei Marmi; Pontile Bellavista Vittoria a Lido di Camaiore.
In Versilia lavora presso il laboratorio Henraux di Querceta e la Fonderia Artistica Versiliese di Pietrasanta.
artworks by Helidon Xhixha