Beatrice Gallori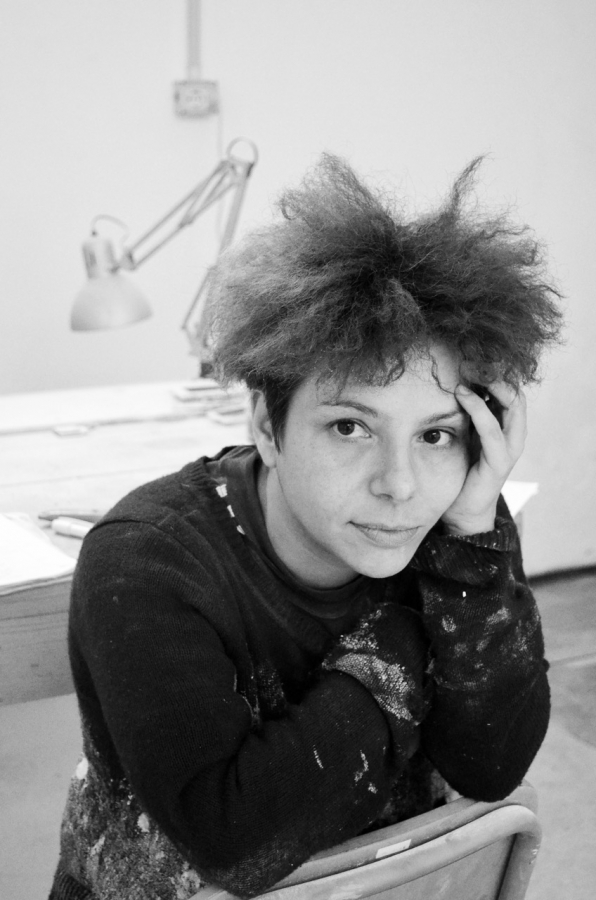 Beatrice Gallori was born in Montevarchi in 1978.​
She got her Leaving Certificate in Classical Studies at the "Cicognini" Institute in Prato in 1996.
In 2001, her passion for fashion and design led her to attend the Polimoda Institute in Florence, where she specialized in Fashion Design and Knitwear.
As she studied fashion, she developed an appetite for experimenting with painting: her first works portrayed her natural ability to use matter, conferring width and life to her canvases, through both instinct and emotional drive, using recycled materials.​
In 2009 she was part of the collective Arte in Vetrina-Prato, giovani talenti emergenti, an exhibition of young talents, curated by Giovanni Faccenda.​
In 2010 she created some hand-painted knitwear designs for the brand Bettaknit which they developed as a full collection.
Following this experience, she started to conceptualize her work, focusing on the possibility to create motion on canvas in an attempt to freeze and display the momentum. So her first sculptures of the third dimension were born, drips of paint trapped in a timeless dimension, crystallized in the fragment of an instant, before their drop.​
In 2011, her sculpture To Red-ing Future became part of the catalogue Premio Combact.
In the same year, one of her "drips", Milk Walking, was chosen by art critic Arturo Schwartz for the Sotheby's Contemporary Art auction in Milan, to support the Israel Museum in Jerusalem.
Her ceramics collection Linguaggi in Milan was met with great favour.
In 2011, she took part to Art Verona and then to the project Artisti a KM 0 in the Luigi Pecci Contemporary Art Museum in Prato, displaying her work and a video entitled 
I miei respiri.​
In 2012, she presented an installation created ad hoc for the Knitwear international day supported by the Province of Prato, with the collaboration of the Prato Textile Museum.
Her endeavours  with galleries and exhibitions, both in Italy and abroad, intensified.
One of her works was selected for BAU10, a contemporary art container, and entered the Zavattini Collection of the National Library in Florence.​
In 2013, she started collaborating with the Armanda Gori Arte gallery (PO) which took her work to various art fairs and broadened her audience.
Her work evolved and matured. Her canvases were masterful works with monochromatic, essential and pure materials.
The Prato Collective Urbana Vestigia was the occasion for her to experiment with other forms of expression and her video, Human crisis, was chosen by the Department of Culture and by the Department for Equal Opportunities as a symbol for the International day for the elimination of Violence against Women and one of her sculptures was laid in the main square in Prato.
At the end of 2013, her solo show Time Lapse was unveiled by Valerio Dehò at the Armanda Gori Arte gallery.
Her work gravitated around the cell and its mutations in the form of still frames of molecular motion which gave her the opportunity to delve into human differences and life itself.​
In 2014 she was part of three collective exhibitions at the Armanda Gori Arte gallery in Pietrasanta with the works Rosso Contemporaneo, Plastica Italiana, Differenze.​
In 2015 she exhibited at the Contemporary and Modern Art Town Gallery in Arezzo with the shows Evolve-ING and Plastica Italiana; Photissima in Venice; Microscope at the Armanda Gori Arte Gallery in Pietrasanta; BIOsphere at the Mural Painting Museum in Prato.
A personal exhibition at the Riccardo Costantini Contemporary art gallery in Turin entitled #differences and an exhibition in the wards of the Hospital in Sassuolo entitled Origins drew the year to a close.​
She collaborated with Lara & Rino Costa Arte Contemporanea, in Valenza and Riccardo Costantini Contemporary in Turin which showcased her work at the ArteFiera in Bologna in 2016 and other art fairs, introducing her to both the national and international market.
In 2016, her work titled BOOM became part of the permanent collection of the Bocconi University in Milan.
In June she showed The Cell in the Vecchiato Arte gallery in Padua, curated by Luca Beatrice.
At the end of 2016, her solo show, CORE, curated by Luca Beatrice and Maurizio Vanni, opened at the Lu.C.C.A. Museum.​
In March 2017 she presented at the Gallery Lara & Rino Costa of Valenza her personal exhibition titled m(others).​
In December 2017 she participated again in BAG with her BOOM work at the Bocconi University in Milan.
In 2018 Beatrice Gallori shifted her research also in the field of sculpture that she made with recycled wood and polymer. This creates sculptures that float between mirrors in a game of balance between spherical forms and monoliths, to underline the precariousness of life.
In January 2018 she presented at LA TRIENNALE DI MILANO with her personal exhibition, curated by Angelo Crespi, Biological Rules of the cycle Materialmente and at the same time chosen by the critic Luca Beatrice for the exhibition IL MILLENNIO È MAGGIORENNE at the MARCA Museo delle Arti in Catanzaro with the support of Fabbrica Eos - Milan gallery - with which a collaboration relationship begins.
Her VAST installation on show at MARCA is acquired by the Rocco Guglielmo Foundation.
Also in January, together with the gallery Lara & Rino Costa presents at ArteFiera Bologna an installation titled Gaze, curated by Alessandra Frosini.
At the beginning of 2018, she collaborated with the AriaArt Gallery - Florence, London, Istanbul - and participated in the group exhibition in Florence, while preparing the personal exhibition Emotion Capture, curated by Alessandra Frosini, which was inaugurated in April at the Istanbul gallery.
She currently works with Lara & Rino Costa Contemporary Art (Valenza), Fabbrica Eos (Milan) and AriaArtGallery (Florence / London / Istanbul) presenting her works in various Italian and foreign fairs and through exhibition projects that will be organized in galleries and museum spaces throughout 2019. At the end of 2019 she began working with Futura Art Gallery - Pietrasanta
Her works are present in various Italian and international private and public collections.
artworks by Beatrice Gallori