Max Papeschi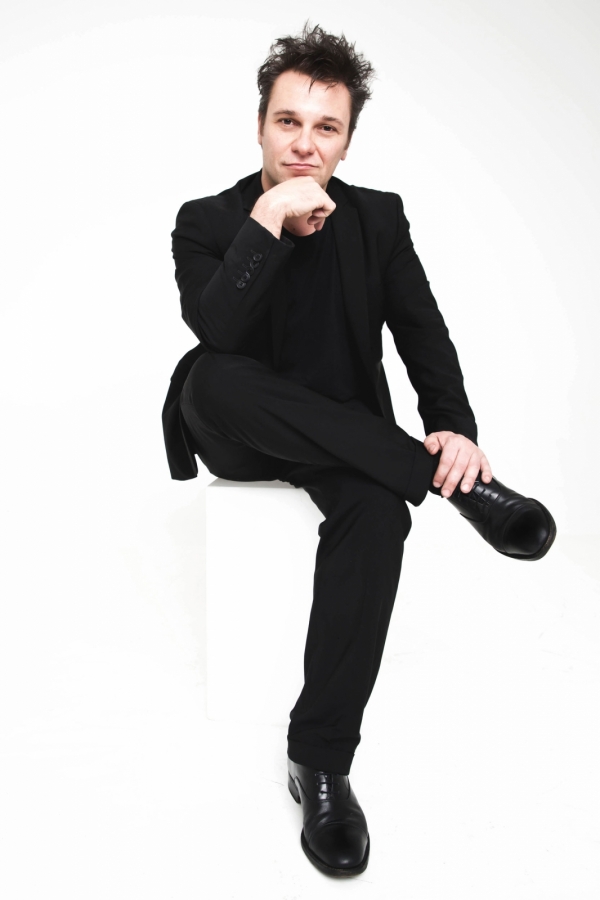 Max Papeschi approda nel mondo dell'arte contemporanea alla fine del 2008, dopo un'esperienza da autore e regista in ambito teatrale, televisivo e cinematografico. Il clamore mediatico sollevato da una sua opera gigante affissa sulla facciata di un palazzo nel centro di Poznan in Polonia lo proietta sulla scena internazionale, rendendolo in pochissimo tempo uno degli artisti italiani più conosciuti all'estero.
In soli 9 anni di attività ha realizzato più di 60 mostre personali e partecipato a un centinaio di mostre collettive in giro per tutto il mondo.
Nel 2014 è uscita in Italia la sua autobiografia "Vendere Svastiche e Vivere Felici" edita da Sperling & Kupfer (Gruppo Mondadori).
Nel 2018 è uscito il suo secondo libro "Max vs Max" edito da Giunti Editore, realizzato in collaborazione con lo scrittore Massimiliano Parente.
Dal 2016 sta portando in giro per il mondo il progetto culturale-umanitario Welcome to North Korea, un vero e proprio precedente artistico realizzato in collaborazione con Amnesty International, che unisce arte digitale, performance e installazioni in un'operazione multimediale che attraverso una fittizia e parodistica propaganda di regime svela gli orrori perpetuati dal dittatore Kim Jong Un.
After an experience as author and director for theatre, Tv and cinema, Max Papeschi starts with digital-art in 2008. The media hype raised by a giant work on the facade of a building in the center of Poznan in Poland projects him on the international scene, making him in a very short time one of the best known Italian artists abroad.
In just 9 years of activity, he has made more than 60 solo exhibitions and he has participated in about one hundred collective exhibitions around the world.
In 2014 he published his biography: "How to sell Swastikas and Live Happy" by Sperling & Kupfer (Mondadori Group).
In 2018 he released his second book "Max vs Max" published by Giunti Editore, in collaboration with the writer Massimiliano Parente.
From 2016 he's showing the cultural-humanitarian project Welcome to North Korea around the world in collaboration with Amnesty International. This operation combines digital art, multimedia performances and installations in a fictitious and parodic regime propaganda that reveals the horrors perpetrated by the dictator Kim Jong-un.
SELECTED SOLO EXHIBITIONS
2018
The Best is Yet to Come - Palazzo Chiaramonte Steri - Palermo
Max Papeschi + Artistas - Biblioteca Pública Municipal Eugenio Trías - Madrid
Waiting for Mr Papeschi - Aeroporto Internazionale Falcone Borsellino - Palermo
2017
The Leader is Present – McLoughlin Gallery – San Francisco
The Leader is Present – Le Point Éphémère – Paris
2016
The Best is Yet to Come – Museo M.A.C. – Milano
Crowd Pleasers – McLoughlin Gallery – San Francisco
The Leader is Present – Galleria Sant'Agostino – Torino
The Leader is Present – Marsiglione Arts Gallery – Como
The Leader is Present – Silbernagl Undergallery – Milano
The Leader is Present – Leonardvs Arte – Sestri Levante
The Leader is Present – Leonardvs Arte – Desenzano del Garda
2015
Fifty Shades of Gold – Italian Cultural Institute – San Francisco
La Société Du Spectacle – Italian Cultural Institute – Osaka
From Hiroshima With Love – Gallery Tomo / Mag Japan – Kyoto
Je Ne Regrette Rien – Galleria Davico Arte – Torino
La Société Du Spectacle – Silbernagl Undergallery – Milano
2014
La Société du Spectacle – Le Point Éphémère – Paris
That's all Folks! – Gallery Tomo / Mag Japan – Kyoto
Two – San Pietro in Atrio – Como
Revolution is Not a Dinner Party – 1462 Contemporary – Izmir
Iconoclasm – McLoughlin Gallery – San Francisco
2013
Max Papeschi's Freak Show – Castello del Valentino – Torino
Learning to Cheat/Sound True – Aurum – Pescara
Learning to Cheat/Sound True – Sala AXA – Campobasso
New Hotel Papeschi – Paggeria Arte di Palazzo Ducale – Sassuolo
2012
Greetings from Hell – Pandora's box Gallery – Mexico City
The Silence Of The Lambs – Gestalt Gallery – Pietrasanta
Warhol vs Papeschi – Silbernalg & Undergallery – Milano
Role Play – Palazzo Cellamare – Napoli
Silence Is Golden – Marsiglione Arts Gallery – Como
2011
A LIFE Less Ordinary – Mondobizzarro Gallery – Roma
The Golden Age – Abnormals Gallery – Berlin
Exit From Heaven – Leo Galleries – Monza
Bambi's Mother is Dead!  – Spazio Stendhal 36 – Milano
In the Sky with Diamonds – KH Tacheles – Berlin
Oops!…I did it again – Rinascimento Contemporaneo Gallery – Genova
Bunga Bunga Republic – Abnormals Gallery – Berlin
A LIFE Less Ordinary – Caserma dell'Artiglieria di P.Verona – Peschiera del Garda
Fukushima Mon Amour – Silbernalg & Undergallery – Varese
2010
Götzen-Dämmerung 2.0 – Abnormals Gallery – Berlin
Greetings from Italy – L2 Gallery – Stockholm
MAX! - Galleria Barbara Mahler – Lugano CH
Duck Eat Duck – Galleria Spazio Bevaqua Panigai – Treviso
Greetings from Italy - Farm Cultural Park – Favara
Hitler N°5 – Centro Culturale QAMM – Palermo
2009
Disneyland Under Attack - Mondobizzarro Gallery – Roma
My Little Adolf – Galleria Spazio Bevaqua Panigai – Treviso
NaziFuckingMouse – Skin Gallery – Brescia
Jesus Goes To Hollywood – Galleria Famiglia Margini – Milano
Ronald The Butcher Boy Reloaded - Voghera 11 ArtGallery – Milano
2008
Ronald the Butcher Boy – Galleria Famiglia Margini – Milano
SELECTED GROUP EXHIBITIONS
2017
Karachi Biennale – KB17 – Karachi
Open 20 – Molino Stucky – Venezia
Politica Ideali Violenza Amore – Neon Gallery – Pavia
2016
Iran Contemporary Art Biennale – Niavaran Cultural Center – Tehran
Motoparade – Palazzo della Triennale – Milano
Amerikan Krazy – BC Space Gallery – Laguna Beach CA
Iran Contemporary Art Biennale Part II – Abadan Contemporary Art Museum – Abadan
Iran Contemporary Art Biennale Part III – Isfahan Contemporary Arts Museum – Isfahan
Money can buy me Love – Orsorama – Milano
2015
Praestigium Italia – Fondazione Sandretto Re Rebaudengo – Torino
Map Of The New Art – Fondazione Cini – Venezia
Art Busan - Tomo Gallery - Busan
Ventes aux Enchères – Salle d'exposition du Chesnay – Paris
Karma Sergi – 1462 Contemporary – Izmir
Charity Auction – Complesso Monumentale del Broletto – Novara
SuperPopZoo – Ex Complesso Conventuale San Francesco – Alessandria
2014
Biennale MArteLive – MACRO Testaccio – Roma
Il Sacro Svelato – Museo CAM – Casoria
Scope Basel - Silbernalg & Undergallery - Basel
SuperHeroes 2.0 – Villa Bertelli – Forte dei Marmi
SuperHeroes 2.0 – Palazzo Leonardi – Pietrasanta
Select Fair NYC - Galerie Bruno Massa - New York
Affordable Art Fair -  Galerie Bruno Massa – Brussels
Çocuklar Korunsun Diye – Asma Bahçeler – Izmir
Charity Auction – Fondazione Marzotto – Milano
Il Volto Dell'Anima – Complesso Monumentale del Broletto – Novara
2013
Manifesto – Rizzordi Art Foundation – Saint Petersburg
Hai paura del buio? – Auditorium Parco della Musica – Roma
Hai paura del buio? – Traffic Festival – Torino
Incubarte Festival Internacional de Arte – Llotgeta Gallery – Valencia
ArtAthina - Ufofabrik – Athens
Aqua - Galerie Bruno Massa – Miami
Affordable Art Fair - Galerie Bruno Massa - Hamburg
Palazzo in mostra – Palazzo Leonardi – Pietrasanta
Charity Auction – Arengo del Broletto – Novara
Pulsart Restart 2013 – Palazzo Fogazzaro – Vicenza
2012
Trame & Frame – Palazzo Morelli – Todi IT
Daegu Art Fair - Marsiglione Arts gallery – Daegu
Krakow Art Fair - Ufofabrik - Krakow
ArtVilnius - Ufofabrik - Vilnius
ArtExperience – Palazzo Visconti – Brignano Gera Dadda
PulsArt 2012 – Lanificio Conte – Vicenza
2011
Dadaumpop  – BMB Gallery – Bombay
Dadaumpop – Italian Cultural Center – New Delhi
Dadaumpop – Rabindranath Tagore Centre – Calcutta
Danno d'Immagine – Zajia Lab – Beijing
Into the Future – Musei Capitolini Centrale Montemartini – Roma
Charity Auction – Christie's – Milano
Art.Fair - St-Artgallery – Cologne DE
Exposition d'ètè – Silbernalg & Undergallery – Saint Paul de Vence
Fashion Week – Abnormals Gallery – Berlin
Italian Pop Surrealism – Mondobizzarro Gallery – Roma
Agatarte, Il respiro della libertà – Palazzo della Cultura – Catania
Dadaumpop – Rinascimento Contemporaneo Gallery – Genova
Sanrio For Smiles – Umanitaria – Milano
La città e l'umano – Castello Orsini – Soriano nel Cimino
Mondo Bizzarro Show – Galleria Miomao – Perugia
2010
Abnormal Nudes – Abnormals Gallery – Poznan
Abnormal Nudes – Tacheles – Berlin
Sommerudstilling – Hans Alf Gallery – Copenhagen
Terzo Rinascimento – Palazzo Ducale – Urbino
Blooom. Art Fair - Abnormals Gallery - Cologne
Terzo Rinascimento – Galleria Civica d'Arte Contemporanea – Aci Castello
Made out of Beautiful – Parlor Gallery – Asbury Park
Con Questi Occhi – Museo Piaggio – Pontedera
The Secret Garden – Mondobizzarro Gallery – Roma
Ceres4art – MyOwnGallery – Milano
2009
Nigredo – Ex Manicomio – S. M. Della Pietà – Roma
Love Nest – Wannabee Gallery – Milano
PornoStart – Voghera 11 ArtGallery – Milano
Social Circus – Galleria Famiglia Margini – Milano
2008
Freiheit. Libertà d'Exposizione – Galleria Famiglia Margini – Milano